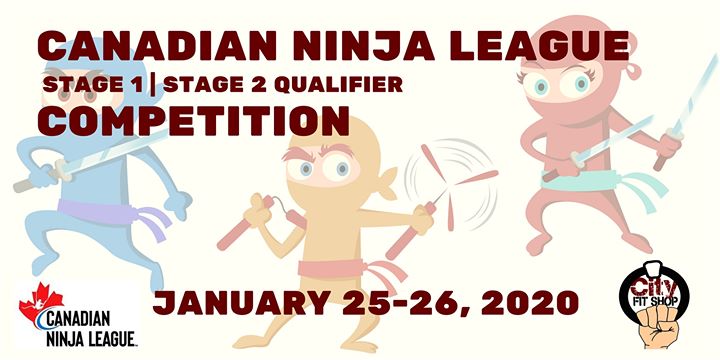 Event
Date
Time
Canadian Ninja League Competition (Stage 1 and 2 Qualifer)
January 25, 2020 (Saturday) - January 26, 2020 (Sunday)
8:30 am - 4:30 pm




Join us January 25-26 for an unforgettable weekend as we host our INAUGURAL Canadian Ninja League qualifier competition! Be prepared to test your NINJA WARRIOR skills!

ABOUT

No matter what your skill or experience level this will be a great opportunity to learn, develop and compete using your ninja & obstacle skills in a fun, safe and friendly environment. We'll be hosting both a kids & adult competition with the opportunity for all age divisions to qualify for this season's Canadian Ninja League Nation Finals!

DIVISIONS

Age 6-9 Girls
Age 6-9 Boys
Age 10-11 Girls
Age 10-11 Boys
Age 12-13 Girls
Age 12-13 Boys
Age 14-15 Girls
Age 14-15 Boys
Age 16-39 Women
Age 16-39 Men
Age 40+ Women
Age 40+ Men
Pro Men
Pro Women

COMPETITION FORMAT AND SCHEDULE

The competition will incorporate 2 stages (2 different courses) and follow the format laid out by the Canadian Ninja League. The full rule book for the CNL can be found here.

The top 50% of athletes in each division from the stage 1 course will qualify to move on to stage 2. The top 3 athletes in each division from stage 2 will then qualify for the CNL National Finals taking place May 22-24, 2020 in Langley, BC. Those that run the stage 1 course but don't place in the top 50% will not qualify for the stage 2 course but will still have the opportunity to run it for fun and practice 🙂

Younger Kids competition (ages 6-13 divisions) both stage 1 and 2 will take place on Sunday January 26th, 2020

Older Kids & Adults competition (ages 14-15,16-39, 40+, and Pro divisions) both stage 1 and 2 will take place on Saturday January 25th, 2020

IMPORTANT NOTE: Each athlete MUST purchase a CNL membership in order to have the opportunity to qualify for the CNL National Finals. Although anyone may register and compete in the event, those that do not have a CNL membership will NOT BE ELIGIBLE to qualify for the CNL National Finals.

In order to run a sucessful event, there are limited spots availible for each division. Register early to ensure you secure a spot.

Competition Registration – $50

Please email info@cityfitshop.com for any questions.